Even though we are home, it's still Easter! Please join us! Click below to get more information on our experiences for Holy Week:
GOOD FRIDAY SERVICE TIMES
Friday, April 10 | 6:30PM | 8:00PM
-- He sacrificed so that we could have hope.
---------- He was scarred so that we could be healed.
------------------ He suffered so that we could be saved.
Good Friday Scavenger Hunt! Find the following items and have them with you when you tune in to FaceBook Live!
Nail

Vinegar

Bread (or crackers) and juice (or water)

Old cloth or newspaper that can get ruined

Candle

Handful of coins
EASTER SERVICE TIMES
HOLY WEEK APP EXPERIENCE
HOLY WEEK PUSH NOTIFICATION DEVOTIONAL
Signup through the Grace App for daily push notification reminders at specific times lined up with Jesus' last week on earth. This will be a very powerful prayer and mindfulness tool as we remember Jesus' sacrifice for all of us.
NOTE: Even if you already have the app, follow the instructions below to make sure you are subscribed to notifications, and make sure your phone settings also allow them.
Here's how (screenshots below):
Get the Grace App from your App Store
Press "Messages" in the bottom menu
"Press the filter icon in the top right corner
Choose "Grace Reading Plan" (and any other notifications you would like).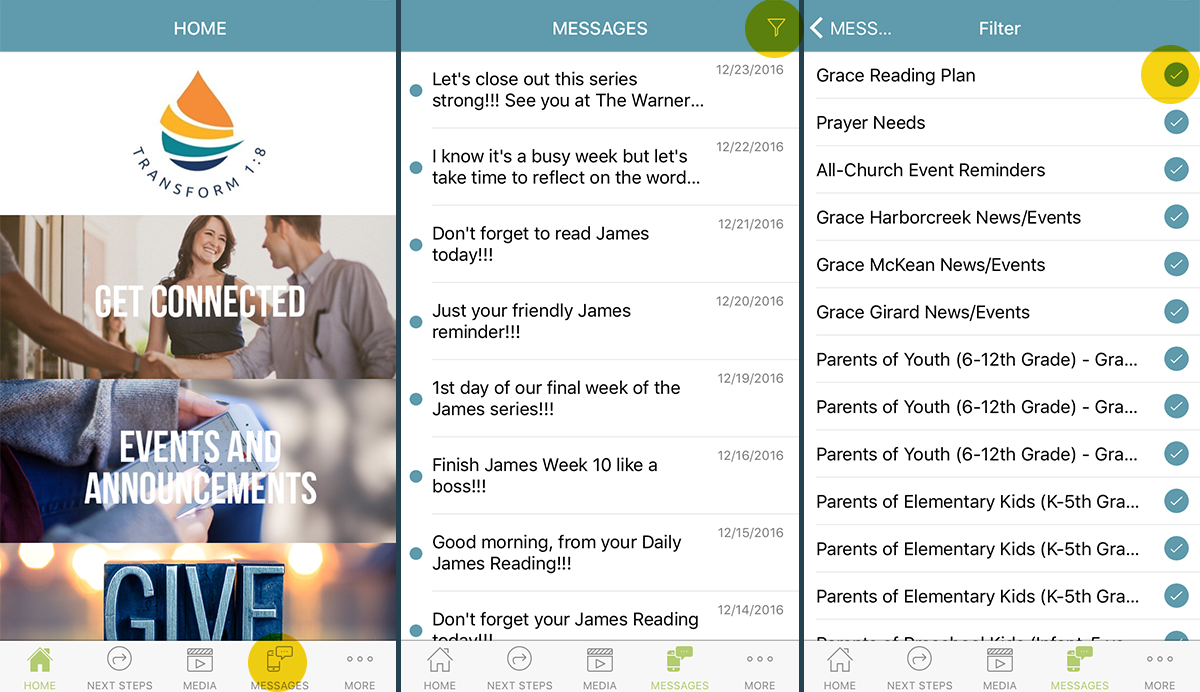 SHARE EASTER ONLINE
Use any of these graphics or videos to invite friends and family to join you online or on television this Easter. Be sure to include a personal message that includes which service(s) you plan to attend with a link back to this page (https://whoisgrace.com/easter):
| | |
| --- | --- |
| | |
| | |
| | |