We are excited and expectant to see what God has in store for us this Easter season! Click below to get more information on our experiences:
HOLY WEEK DIGITAL EXPERIENCE
HOLY WEEK DIGITAL EXPERIENCE
Signup through the Grace App for daily push notification reminders at specific times lined up with Jesus' last week on earth. This will be a very powerful prayer and mindfulness tool as we remember Jesus' sacrifice for all of us.
NOTE: Even if you already have the app, follow the instructions below to make sure you are subscribed to notifications, and make sure your phone settings also allow them.
Here's how (screenshots below):
Get the Grace App from your App Store
Press "Messages" in the bottom menu
"Press the filter icon in the top right corner
Choose "Daily Reading Plan" (and any other notifications you would like).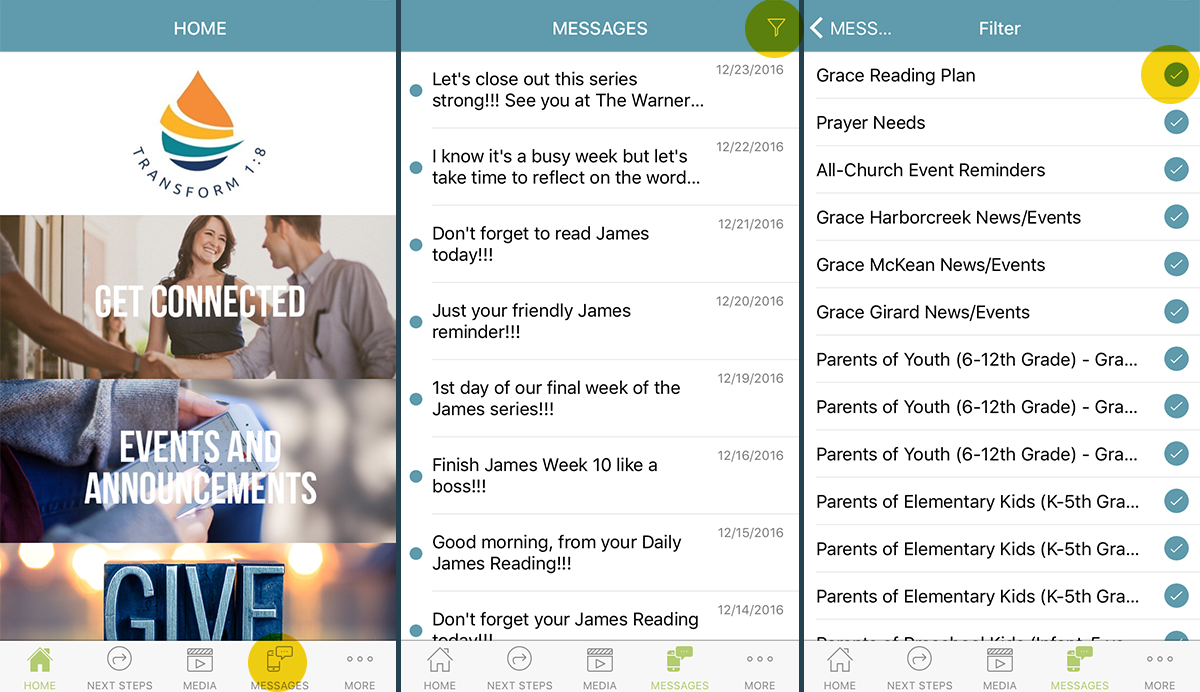 GOOD FRIDAY SERVICE TIMES
GOOD FRIDAY EXPERIENCE
Friday, March 30 | 6:00PM | 7:30PM
To understand the human condition, Jesus took on flesh and suffered through temptation, hatred, exhaustion, and betrayal...ALONE. The only man who could save all of humanity, he carried the weight of the world, acquired the sin of the masses. He was the ONLY ONE who could free EVERY ONE.
GraceKids will have their own experience at the 6:00 service, so bring the family! If you don't have kids, we recommend coming at 7:30.
Hosted at Grace McKean, 7300 Grubb Road.
EASTER SERVICE TIMES & LOCATIONS