Individuals currently giving through SecureGive and/or Kindred must follow cancellation instructions below.
Your SecureGive and Kindred gifts WILL NOT be automatically cancelled. You must manually take action.
Set up Electronic Giving Cancel SecureGive or Kindred Giving
Set Up OneChurch Electronic Giving
Step 1:
Create a login with at https://whoisgrace.onechurchsoftware.com if you have not already done so. Or, log into https://whoisgrace.onechurchsoftware.com
Step 2:
Click on the "Visit Giving Portal" button in the upper left corner just below your name.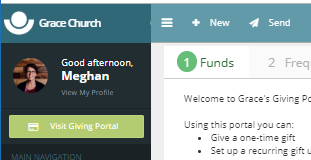 Step 3:
Follow the instructions to set up a one-time or recurring gift to Grace's ministries. Funds available include Ministries & Operations (General Fund) for each site, Missions, Mission Trips and Benevolent.
NOTES:
From the "Giving" tab in OneChurch you are able to view your transactions, download a giving statement and more! Transactions include your electronic transactions as well as any cash or check contributions to Grace Church.
---

Cancel SecureGive or Kindred transactions
Until you manually cancel your online, recurring giving with SecureGive and/or Kindred, your recurring gifts with SecureGive and Kindred will continue to be processed.
Please contact or 814.790.4973 x229 with questions.
Cancel SecureGive Transactions
Log into SecureGive at https://gracechurch.securegive.com
Click Manage Recurring
Click "Delete" next to all recurring transactions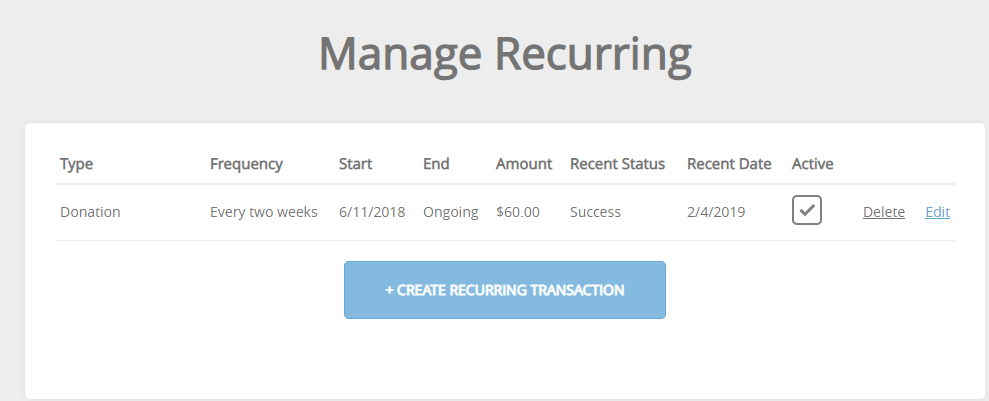 Your transaction history is recorded in OneChurch under the "Giving" tab for your future reference.
Cancel Kindred Transactions
1. Text EDIT to 45888.
2. Click the provided link, which takes you directly into your personal giving account.
3. Once in your account, you can cancel your recurring gift. The cancellation happens immediately, so you can rest assured you will not be charged again for that recurring schedule.