join us for our Easter Church services
online or IN-PERSON!
Join us this Easter online or in-person as we dive into our new sermon series, "I believe in God, but...". We'll be discussing common doubts and questions many of us have about God and the church. To kick things off on Easter Sunday, our Big Idea is, "Jesus answers the questions science can't reach". You'll get a better understanding of the differences and similarities between faith and science and how to view both from a healthy perspective.
Easter here at Grace goes beyond just Easter Sunday. Check out our other Lent and Holy Week experiences below and download our full lent season calendar!
Discover all of our experiences for Easter, Lent, and Holy Week:
GOOD FRIDAY SERVICE TIMES
GOOD FRIDAY SERVICE
Join us at Grace McKean
Friday, April 15 | 6:00PM or 7:30PM
EASTER SERVICE TIMES
HOLY WEEK APP EXPERIENCE
HOLY WEEK PUSH NOTIFICATION DEVOTIONAL
Signup through the Grace App for daily push notification reminders at specific times lined up with Jesus' last week on earth. This will be a very powerful prayer and mindfulness tool as we remember Jesus' sacrifice for all of us.
NOTE: Even if you already have the app, follow the instructions below to make sure you are subscribed to notifications and make sure your phone settings also allow them.
Here's how (screenshots below):
Get the Grace App from your App Store
Press "Notifications" in the bottom menu
Press the profile icon in the top right corner
Press the stack icon in the middle right
Choose "HOLY WEEK" and "Done"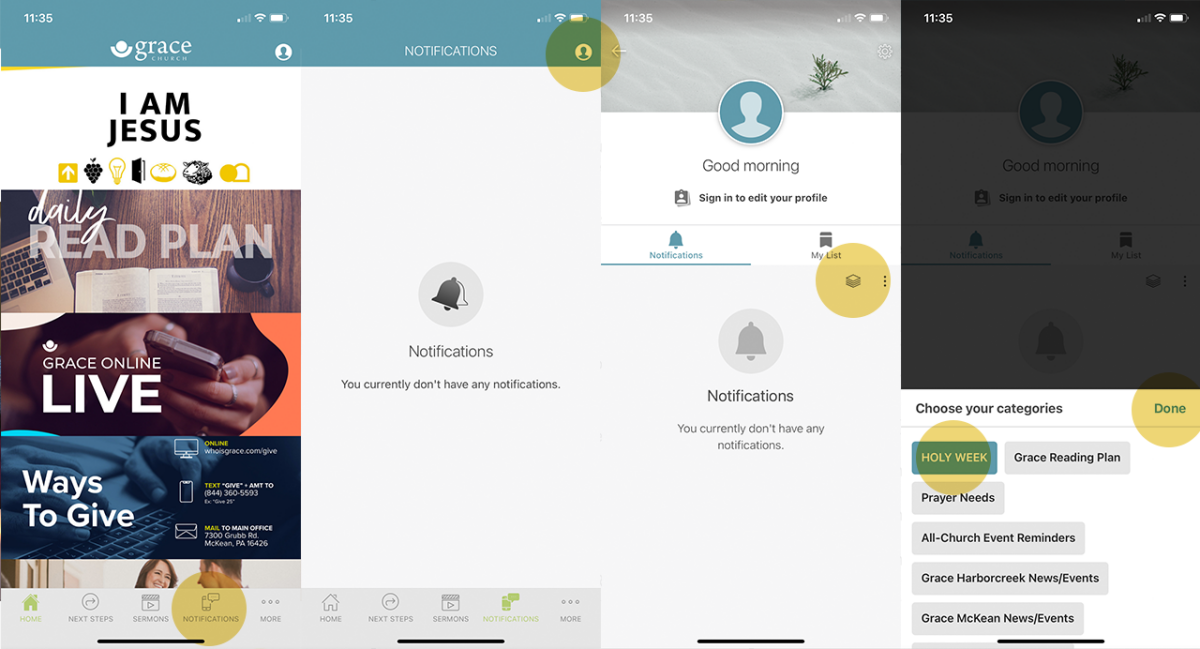 Get Easter Weekend Service Reminders!
We'd love for you to experience what Grace has to offer this Easter! Sign up below to get email reminders when Easter weekend services are approaching and a link to the online worship experience.