As our region and country begin the process of reopening, our staff is preparing a phased reopening plan that mirrors the strategy outlined by the government. We will start the "Yellow" phase beginning on May 8, and hope to progress to the other stages in accordance with CDC and regional guidelines. This current plan will take us through the end of June and you can expect another official update then.
Thank you to everyone at Grace who has embraced this season with love, gratitude, grace, and a helpful spirit. We love you and we are proud of you. Every day, you are proving why this is such a special community that we can't wait to share space with again. YOU are Grace.
SUBMIT QUESTIONS FOR PASTOR DEREK
[Tap/click image for full PDF]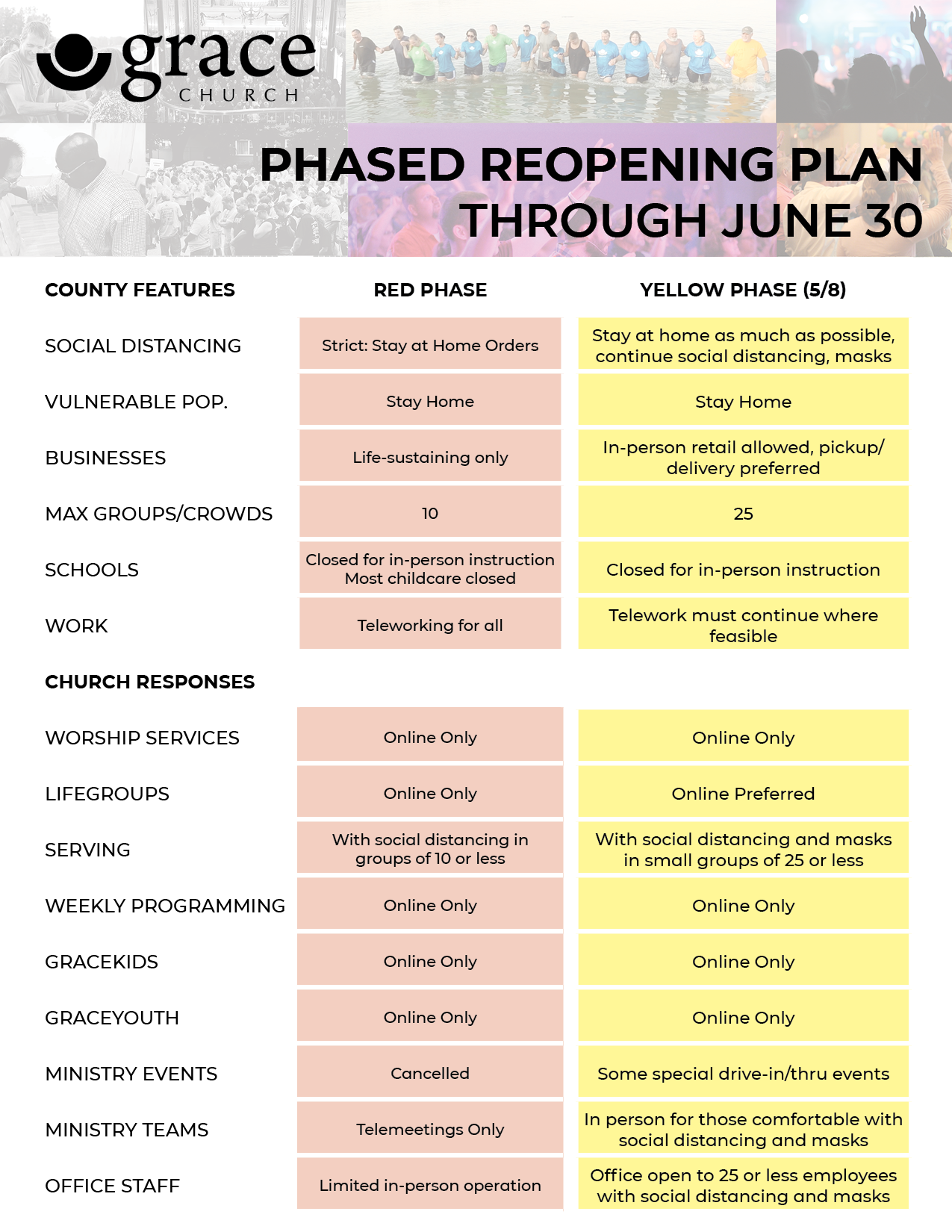 When will in-person gatherings resume?
We will be re-evaluating as we move forward. This current phase takes us through the end of June. While we expect our phased approach to open to line up with the phases that have been laid out by the government, everything hinges on the health of our community and the CDC's recommendations. We have to be more cautious about how we reopen due to the size of our gatherings and our approach to ministry, so we'll likely open a little later than other local businesses and churches. We will only advance through these phases as Erie County meets the government's benchmarks to continue reopening.
Will regular activities look different?
We think so. With social distancing, mask-wearing, and sanitization processes in place, an in-person gathering has the potential to feel very different in these new phases of reopening. Now, when the country is fully opened back up, expect our gatherings to have the same (but probably way better) feel!
What about regular yearly events?
In the near term, some of our events will gather as an online-only event, and some will still meet in-person (but look a little different this year). Sunday in the Park is a good example; we're hoping to hold a version of it later this summer, if all goes well in Erie County.
How can we gather together right now?
In-person gatherings may be on-hold for a little while longer, but Grace has several great ways to gather digitally on a weekly basis. Check out our schedule here, and make plans to join us as often as you can.
In addition, LifeGroups of under 25 can meet at their own discretion while practicing social distancing and mask-wearing. We anticipate this being a bit easier when groups can meet outside in nice weather and spread out.