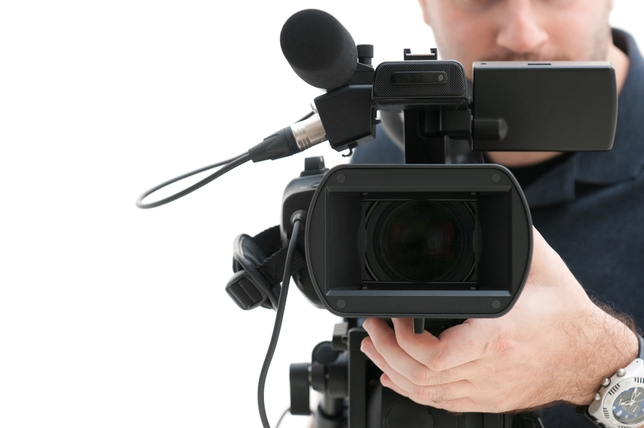 For the past several years I have been delivering sermons to a camera in order to provide preaching content to Grace Church's multi-site locations and Grace Online. We don't film during a live service, and there is no studio audience for the taping, only the camera and crew. It took some getting used to, but now I truly prefer this method of preaching. It allows me to speak directly to the camera and really concentrate on the viewers who will be watching on a screen. It has also allowed us to get creative with where we film. We filmed the Jonah series at the beach, the Catholics and Protestants series in front of one of Erie's historic churches, and The Forgiveness Project in an art studio. We've also heard from those viewing the sermons that it's nice to not feel like they're listening in while the preacher is speaking to a live crowd, but that the message is addressed directly to them.
Over the years, I've put together some tips for preaching to a camera, mainly for our preaching team at Grace. But recently I have been receiving inquiries from other pastors who are also considering this method of sermon distribution. Hopefully these tips will be helpful to as you try to improve on your craft.
Tips for Preaching to a Camera
Talk faster than you think you should. A quicker delivery helps to hold people's attention.

Voice inflection is particularly important. You can be more passionate and animated than feels natural.

Keep your eyes on the lens as much as possible – don't look around at a crowd or imaginary crowd.

Utilize visual aids whenever possible. Pictures, video clips, full screen quotes all help break it up and keep it interesting.

Explain all personal/geographical references. For example, Instead of "Kim and Caleb," I say "my wife Kim and my oldest son Caleb…" People will be watching who don't know all your personal life details.

Briefer is better. There is a limit to how much preaching people will endure on screen.

If you are using notes on a podium or an iPad – the camera shot should be wide enough to include those things so that people can see what you're looking down at.

Nervous gestures or body language are amplified on screen.

Smile big (when reasonably appropriate). Big smiles may seem unnatural, but they will usually translate as warm and friendly, not cheesy, on screen.

Pause for expected laughter. It's a little risky - especially if you aren't as funny as you thought you were going to be. But when you keep chugging along with your next point while people are still laughing at your last one – it is a stark reminder that you're on a screen.

Imagine specific people. As you prepare and as you deliver your sermon it's helpful to remember specific people and potential reactions of those who will be viewing your sermon.
If you a ministry leader considering this method and have any questions at all, please feel free to contact me using the contact form below. I would love to help in any way I can.
.